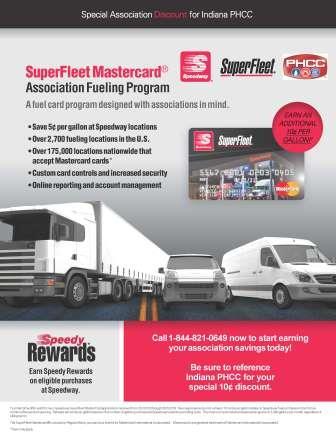 Our partner, Speedway, is offering a 10 cents per gallon promotion for the 1st 6 months for all new accounts that sign up for the SuperFleet MasterCard® program through our Association.
Whether you have one company car or a fleet of over 100, your business can save an ongoing 5¢ per gallon on fuel with the SuperFleet MasterCard Program. Your company can save the cost of your membership dues with this program. There's no cost to sign up – it's free for Indiana PHCC members.
The SuperFleet MasterCard Program Offers Members:
• 5¢ per gallon off on fuel at any of the 2,700+ Speedway locations nationwide
• Added convenience of fueling at over 175,000 locations nationwide that accept MasterCard
• Earn Speedy rewards points while using your SuperFleet MasterCard at all Speedway locations
• Set card controls and access detailed reporting online anytime
• Online Account Management
• Competitive Pricing/Quality Products
It's the ideal card for your business!
It's easy to apply. Simply call 844-821-0649 to sign up today to qualify for the special 10¢ per gallon rebate for the first 6 months. Be sure to mention Indiana PHCC when you call to make sure you receive the special offer.
Be sure to call now. The special 10 cents per gallon offer is only good for new accounts opened during the month of June 2018. Click here for the flyer!