Lebo Named 2017 Contractor of the Year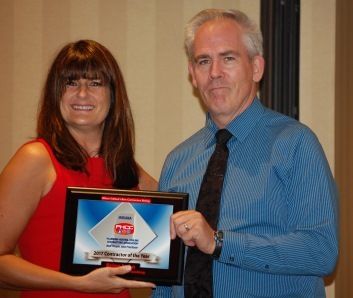 The Indiana Association of Plumbing-Heating-Cooling Contractors named Brian Lebo, Benjamin Franklin Plumbing, Indianapolis as the Contractor of the Year at the association's annual convention's closing reception at French Lick Springs Hotel.
Lebo was honored for his steadfast commitment to the protection of the Plumbing Licensing Law. He makes sure all of his employees follow the letter of the law. He is active on the Board of Directors for the Indiana PHCC and the Greater Indianapolis PHCC. His commitment to the industry is evidenced by his volunteering at Career Fairs. He is a first year instructor at Mechanical Skills Apprentice School.
"Brian was chosen for his thoughtful attention to detail and concern for the professionalism of our industry," said Laura Ciriello-Benedict, who presented the award on behalf of the Past Presidents.
The Indiana PHCC Contractor of the Year award is presented annually to an individual who has made significant contributions to the plumbing, heating, air conditioning and/or mechanical contracting industries in Indiana and to the Association and who has been an effective leader.