Laura Ciriello-Benedict Named National PHCC Plumbing Contractor of the Year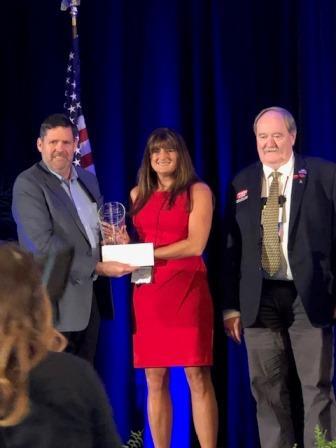 The Plumbing-Heating-Cooling Contractors National Association (PHCC) presented its Annual Plumbing Contractor of the Year Award – sponsored by Delta Faucet – to Laura Ciriello-Benedict, Ciriello Plumbing, Beech Grove, IN. To recognize excellence in the plumbing industry, the award – presented October 4 at CONNECT 2019 in Indianapolis, IN – salutes the contractor that best demonstrates professionalism, merchandising and management skills, innovative plumbing skills, trade involvement and community service.
As Indiana PHCC said, "Our association wouldn't be as strong as it is without the time, talent, and treasure that Laura has given. She served on the local Greater Indianapolis chapter and then went through the chairs on the State chapter before becoming State President in 2011. She spearheaded our "Hire A Licensed Plumber; It's the Law Campaign" and made inroads with complaints to the Attorney General. Since then she has actively participated in our workforce development efforts spending time at Career Fairs and speaking to groups.
She has taken on the role of Chair of the largest plumbing apprentice program in the country at Mechanical Skills. There she has overseen the redesign of the curriculum, teacher training, and online program. These are all things that have been talked about for years but she got them done.
She has given back to the industry all the while she has grown her plumbing business to be one of the most highly respected in the area."