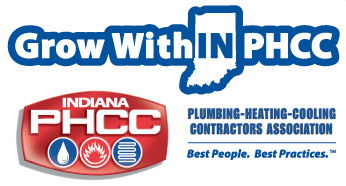 Convention 2019


The PHCC National Convention - CONNECT 19 will be in Indianapolis October 2-4, 2019. Start Your Engines! PHCC's "formula" of the best ideas, innovations and initiatives are sure to get you the inside track to racing past your competition and finishing in Victory Lane. Featuring two exciting keynoters: Richard Tretheway of "The Old House" and its spin-offs and, back by popular demand, economist Connor Lokar of ITR Economics! Full programs details coming soon.
Indiana PHCC will host a special welcome party called "Home Grown Indiana" on October 1, 2019. This will be our Annual Meeting and Installation of Officers and will give us the chance to showcase the great things happening in Indiana's local and state chapters! Stay tuned for details!
Silver Sponsors
Battersby Danielson Azbell & Associates

Bradford White

Fort Wayne Area PHCC

NIBCO, Inc.

PHCC North Central IN

Southwestern IN PHCC

St. Joe Valley PHCC/MCAI

Bronze
Arrow Sales, Inc.
Ashworth-Train & Associates, Inc.

Barry Co. Inc.
Diversified Sales Group
Glentronics (PHCC Pro Series Pumps)
Greater Indianapolis PHCC
Mid-City Supply Co., Inc.
MMI
PHCC Educational Foundation
P-M & Associates
South Central IN PHCC
TOP Marketing
Viega LLC

Wayne Pipe & Supply
Winsupply of Indianapolis
Winthrop Supply