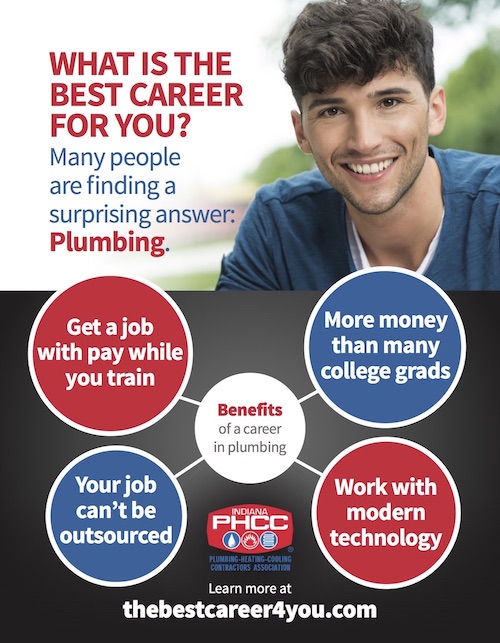 What is An Apprentice?
The State of Indiana defines an apprentice plumber as an individual "who is learning the plumbing trade; and is under the direction and immediate supervision of a licensed plumbing contractor or a licensed journeyman plumber." Indiana dictates that the apprentice must be licensed to act as an apprentice plumber. In order to qualify to take the journeyman plumber examination the apprentice must provide evidence that the applicant has completed at least four years in an apprenticeship program approved by the State of Indiana.
O. A. Requirements
What is O. A.?
The U.S. Department of Labor, Office of Apprenticeship (formerly known as BAT). Each of the Indiana PHCC Apprentice schools are approved O.A. plumbing apprenticeship training programs.
Requirements
The following is the requirements for a plumbing apprentice for completion of the Plumbing Apprenticeship Program, as set by The U.S. Department of Labor, Office of Apprenticeship:
7,600 Hours of On-the-Job Training
1,900 per year for a four-year period
576 Hours of School Related Training
144 hours per year for a four-year period
Each employer sponsor is responsible for enrolling the apprentice into the program and making it possible for the apprentice to acquire on the job training hours and allowing the opportunity for the apprentice to attend classes.
Why Choose Plumbing Apprentice School?
Plumbing Apprentice Schools in Indiana.
See what these Mechanical Skills apprentices have to say about the industry and apprenticeship!